Update on the Coronavirus or COVID-19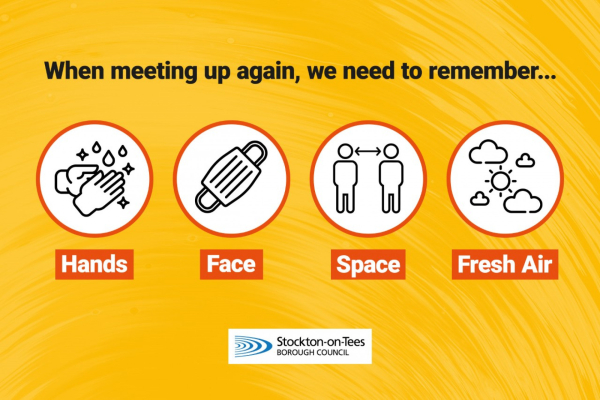 Please find below this week's key COVID-19 messages from Stockton Borough Council.
Don't forget to check-in on the NHS COVID-19 app if you're heading out. You must participate in NHS Test and Trace in some public places, they will have a QR code to scan or a way of recording you details to comply with the rules. Details here:  https://www.nhs.uk/apps-library/nhs-covid-19/
What are the rues
We've come a long way, but the coronavirus pandemic isn't over yet and we need to keep on protecting each other. You can gather indoors in groups of up to six, but remember to open a window to keep the fresh air coming in! For all the latest rules, visit www.stockton.gov.uk/coronavirus/whataretherules
COVID-19 Testing for those with symptoms
You must self-isolate and book a PCR test if you have any COVID-19 symptoms, or have been identified as a close contact of someone who has tested positive for coronavirus. Everyone in the household also needs to stay at home and not leave the house, even for shopping or exercise.  You can find out how to book a PCR test by visiting www.stockton.gov.uk/testing , don't forget the symptoms you're looking out for: (insert symptoms graphic attached)
 COVID-19 Rapid Testing
We're urging everyone without coronavirus symptoms to get a free rapid test twice per week, especially if you're leaving the house regularly for things like work and school. A number of community testing sites are now open across the Borough, where you can be tested or collect a home testing kit.  here is a simple video explaining how to do a home test https://youtu.be/CbqNIb30OPQ. Remember you must register the test result even if it is negative. For testing information visit www.stockton.gov.uk/coronavirus/testing
Let's take this next step safely
Remember to keep following 'Hands. Face. Space. Fresh Air.' to reduce your risk of coronavirus infection.  Wash your hands regularly for 20 seconds. Wear a face covering when shopping or using public transport. Keep 2m apart from anyone not in your household. To keep up to speed with all the latest rules, visit www.stockton.gov.uk/coronavirus
COVID-19 Vaccine
If you are 21 or over, or if you turn 21 before 1 July 2021, you can book your coronavirus vaccine online https://crowd.in/HVKTy8 or call 119 (available 7am-11pm) and remember to get your second dose of the coronavirus vaccine when offered it!  
Archive